BUSINESS CASE
A large government organization required the development of an online SaaS GIS mapping platform that allows cleared users to view and download satellite imagery, GIS data, and make custom maps.
PROJECT OVERVIEW
This project involved the creation of a functional website with enhancements and security upgrades with an overall goal to improve usability, increasing the user base and customer satisfaction.
THE PROBLEM
The initial release of the site lacked the necessary user research and design to support main user functions, therefore we learned very quickly that this was a grave error. As the product manager, I researched design and research methods that I could begin to implement immediately that would improve user access and usability of the site. The main issues we discovered were: The process to gain access to the platform required users to email tech support to request shared log-on credentials and a secure link to the site. Tech support would then request specific information from the user and then a manual validation process would initiate. This took on average 7+ days. Additionally users were unable to: reset their passwords, login with encrypted Common Access Cards, easily remember the site domain, and know when new data was available in their area of focus. These issues affected customer service timelines, usability, metrics gathering and analysis and overall user satisfaction. As a result, the platform risked budget cuts as the user base was not significant enough to justify continued funding.
How do we automate user processes while maintaining security standards, and provide enhancements that together decrease customer wait times, enhance functionality and usability, and increase usage of the platform?
The Solution
After several rounds of user feedback and usability testing, the solution:
enabled users to login with a unique username/password, or Common Access Card (CAC) card

gave users immediate access to the system vs waiting more than a week for application approval

allowed users to reset their own passwords vs waiting for help desk, which could take over 5 days

allowed users to create alerts for new data vs logging in daily to check if there was new data

gave users a domain name that matched the program name to make the site address easier to remember
Result
The creation of a Customer Relationship Module with admin dashboard allowed for automation of the user account creation process and self-service password reset. It also enabled admin control and insight into individual user profiles, and reduced technical support response times from 5+ days down to literal minutes. In instances where there was a reported issue, the average resolution time was within 24 hours. The remaining enhancements increased overall customer satisfaction as our user metrics increased around 40% for the amount of time users spent on the platform. Due to unique user logins, we were able to measure individual user metrics, develop heatmaps, and gather a more accurate representation of our user population, their behaviors and goals. Our user base grew from 400 to over 10,000 users as a result of these iterative enhancements.
ROLES
As the product manager and designer, I lead this collaborative effort with a team of Developers, Systems Engineers, Security and Legal professionals.
PROCESS
Gather Requirements, User Research, Define, Design, Validate, Test, Measure, Iterate
METHODOLOGIES
User Interviews, Stakeholder Interviews, Task Flows and Analysis, Journey Mapping, Sketching, Wireframing, Prototyping, User Acceptance Testing and Feedback, A/B Testing and Web Analytics
TOOLS
Adobe Photoshop, Microsoft PowerPoint
DISCOVERY
Initially, we looked at comparative technologies to see what others competitors were doing for user on-boarding and accounts management, and modeled our initial designs similarly. Unfortunately, due to the high security demand for this platform, we realized that the ideas we proposed were not suitable for a system requiring classified access. After meeting with our cyber security team, we revamped our onboarding process to include encrypted card access and strict username and password requirements to reflect regulatory policies.
RESEARCH & ANALYSIS
Our initial research included essay style questionnaires that were used to identify user goals, expectations and pain points. As we had already had a great deal of feedback, we were able to compile customer feedback into categories that became our Key Performance Indicators in each area for customer satisfaction and system performance, including application time, accessibility, communication response times, timeliness of alerts and notifications, content and data management, and overall customer satisfaction. A/B testing and web analytics were used to determine strategies for hosting specific data that users indicated that they needed most and data that users accessed most according to analytics and heatmaps. A/B testing with various versions of the user dashboard and imagery tools helped us to identify which features users accessed the most, which features users did not access frequently that needed further research and feedback on functionality and need, as well as to help us manage backlog priorities, and feature prioritization.
We discovered that:
Due to the manual process for approval and lack of an official application, this often required several emails back and forth with technical support to get access when required information was missing.

Many of our users worked 24/7 shifts and needed to be able to reset their own passwords when support was not available.

Users spent a lot of time logging in to see if there was new imagery in their area of focus.

Our feature prioritization did not match the capabilities and functionalities that users needed and used the most.
Initial USER JOURNEY/FLOW
The initial user journey for a new user was heavily manual and required too many emails back and forth with support to get access.
Revised Journey/Flow
After automating the application process and improvements to user flows and journeys, users generally had immediate access after signing up (24 hours at the most) and were able to accomplish this without the need to contact admin support.
SKETCHING & WIREFRAMES
After initial sketches of the new login screens and application, we created higher fidelity mockups and prototypes to simulate a new user signing up and an existing user utilizing encrypted card access. We incorporated feedback from the initial and secondary rounds of testing, and did final tests with the team and 20 other imagery analysts before going live. (Note: Due to the sensitive nature of this project, all screenshots have been scrubbed, and work flows and charts recreated to show the process.)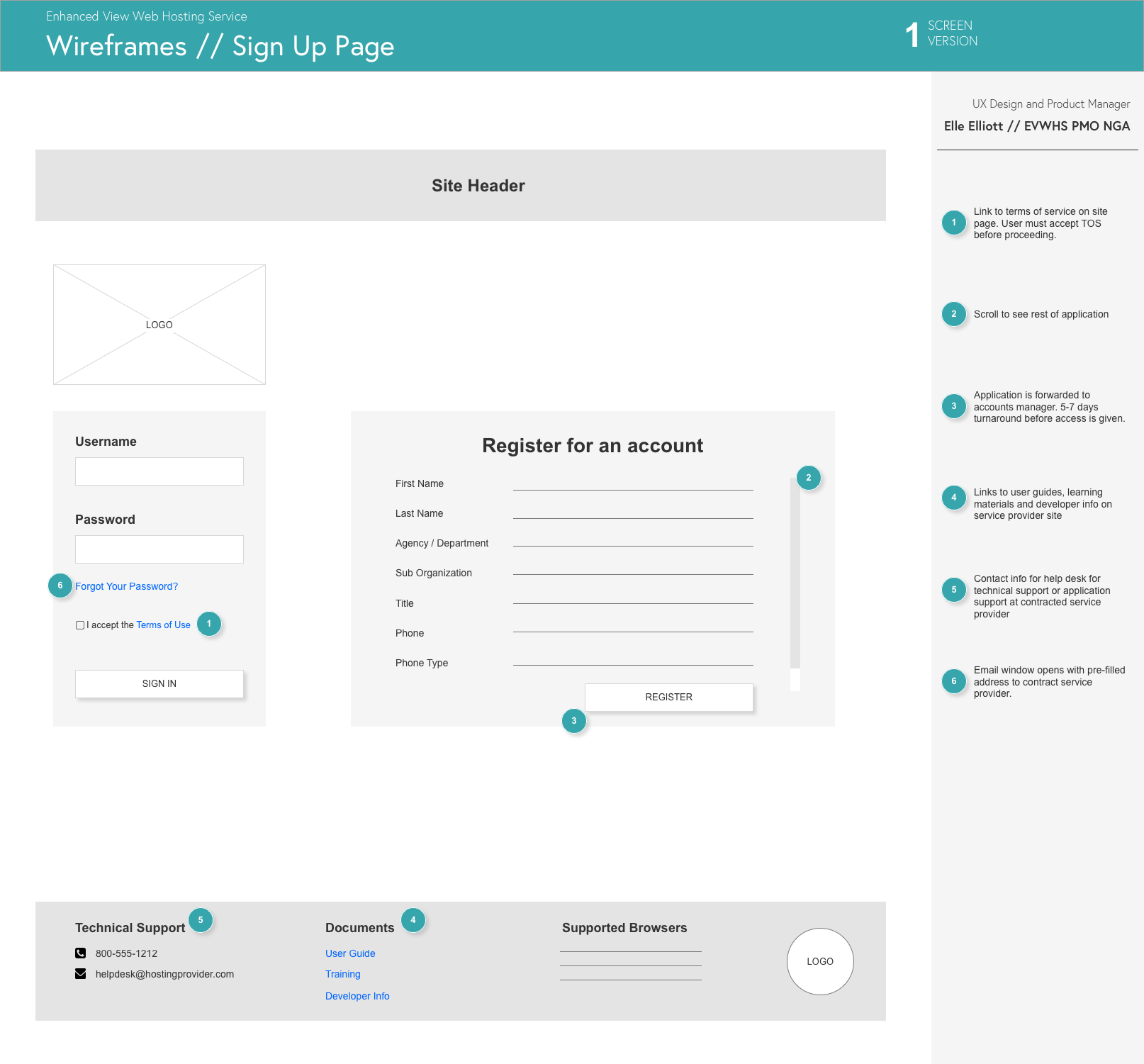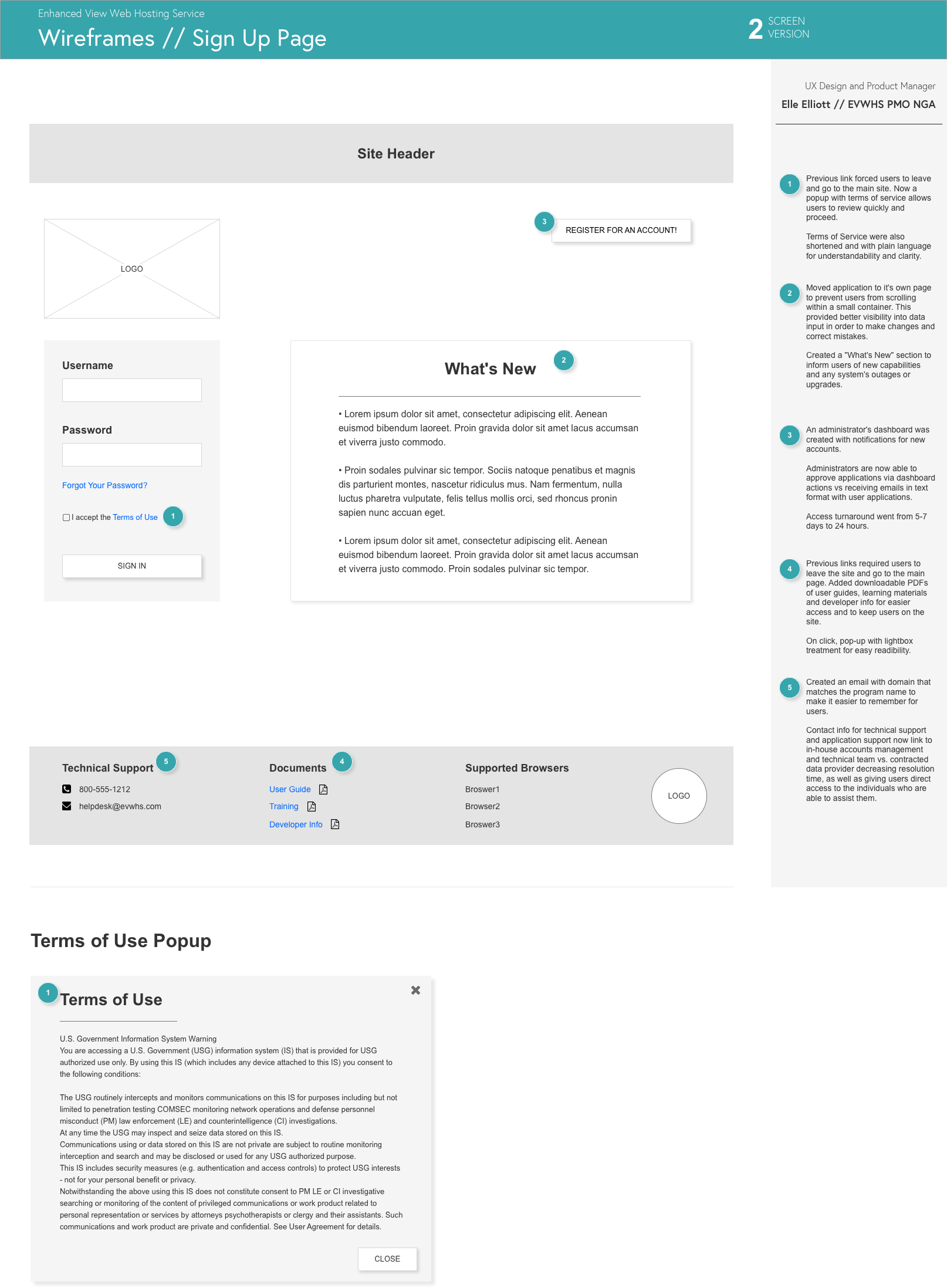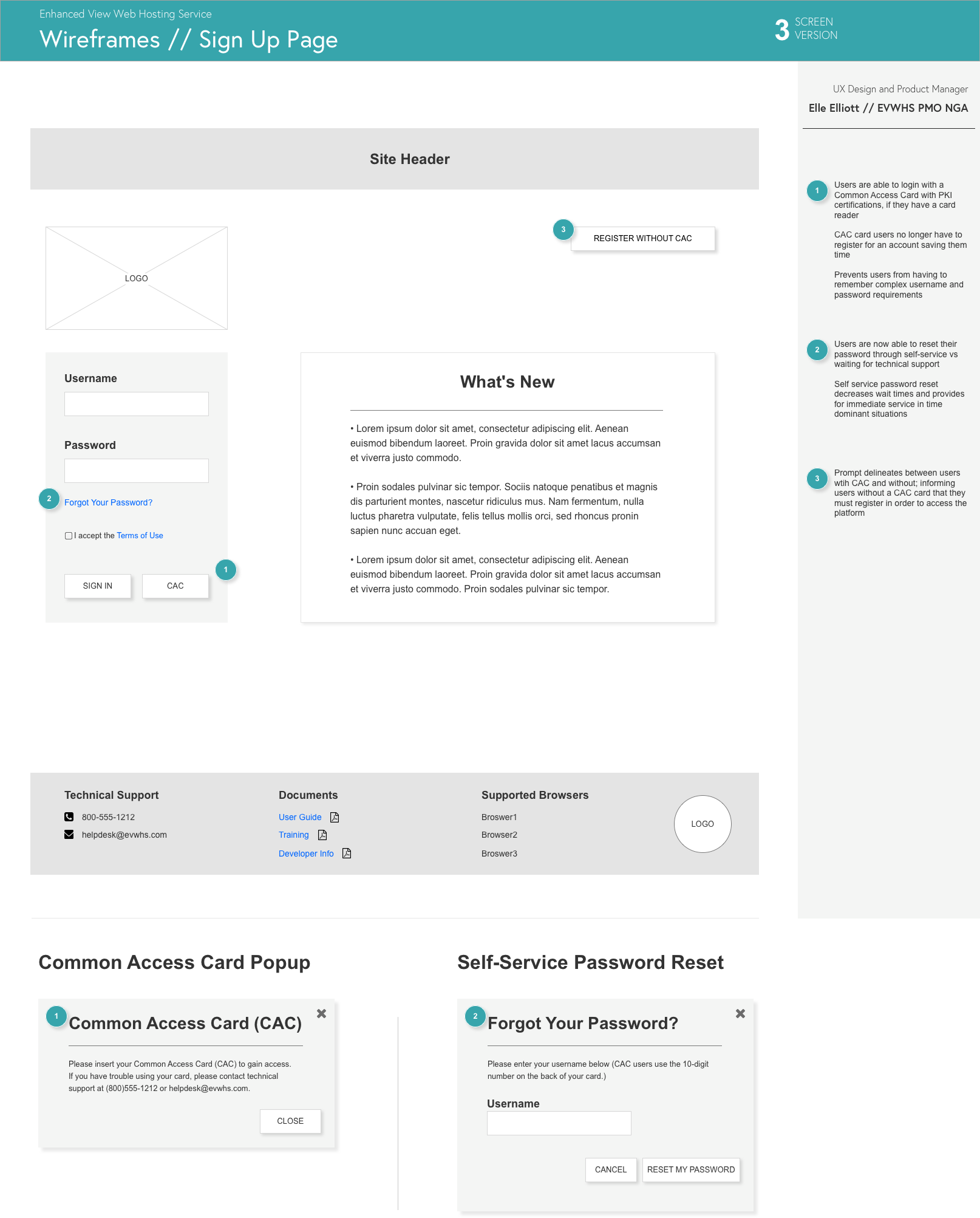 PROTOTYPING & USABILITY TESTING
The first iteration allowed for each user to have a unique login and password, as well as the ability to reset their own password. The site address was made public to match the name of the program. We also created an official application for new users.
After the initial round of usability testing, users who had CAC readers wanted the ability to log on with their CAC cards. This allowed for faster log-in times, and provided an extra measure of security in unsecure environments. While this was mentioned in earlier discussions about feature prioritization, we failed to recognize that it would be a primary need and that it would also increase the scope by a larger margin. Yet, we had come to understand that it was extremely important to implement and summarily extended the original scope of the project to include this enhancement.
Users complained that it was difficult to find new imagery in their area of focus without having to spend a lot of time checking the platform daily. We created an alerts feature where they could set up alerts using coordinates for any geographic region to be emailed to them when available. They could specify the frequency of alerts as well as any metadata related to imagery like nadir angles, cloud cover percentage, sensors, and panchromatic (black and white) or 8-band imagery (color).